PRODUCED BY JEFFREY HUNTER ….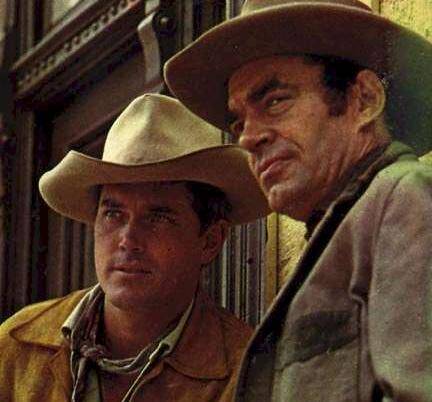 Jeff was a co-producer of two films in the 1950s, briefly described below. On television, he was an executive producer for the series "Temple Houston", in which he also starred (pictured in the role, with co-star Jack Elam, at right).
FILMS
The Living Swamp (1955)
This 33-minute documentary, released in 1955, was directed by David DaLie and co-produced by Jeff, with William Hayes. Like Jeff's film Lure of the Wilderness (1952), The Living Swamp was filmed in the Okefenokee Swamp Park, in Georgia. The documentary was narrated by Dale Robertson, who acted with Jeff in Take Care of My Little Girl (1951). The Living Swamp was released by 20th-Century Fox, the same studio that had Jeff under contract as an actor at that time.
La Ciudad Sagrada (1959)
Directed and written by Ismail Rodriguez, who co-produced the film with Jeff, La Ciudad Sagrada was filmed in Yucatan, Mexico, and starred Gloria Cansino, Jose Chavez, David DaLie, and Antonio Gutierrez. In the film, an expedition searches for a fortune believed to lie in a lost Aztec city. It is unclear whether La Ciudad Sagrada ever saw theatrical release. Footage from this film was edited into the film The Mighty Jungle, released in 1964. The Spanish title means "The Sacred City" in English.
TELEVISION
"Temple Houston" (1963-64)
Jeff was an executive producer of this NBC Western-themed television series, along with William T. Orr and Jack Webb. His status as an executive producer was negotiated as part of his mid-1960's contract with Warner Bros.; Warner Bros. Television, headed by Mr. Webb, sold the series to NBC. The series, in which Jeff starred as Temple Houston, lasted for one season of 26 episodes. Jeff formed a production company, Apollo Productions, to handle production of "Temple Houston."